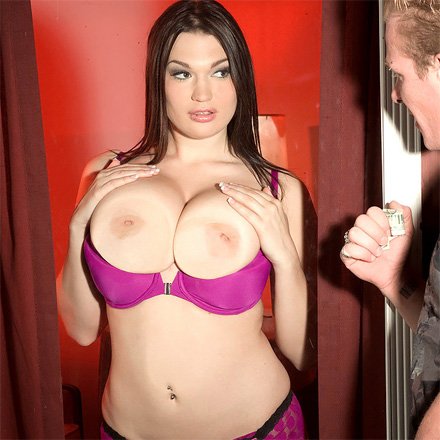 Cassandra Calogera is truly a classic natural busty pornstar, a girl who didn't have to go to the doctor to get big hooters, she got them naturally. She's a hotty too, in that sort of chubby girl who isn't too chuby sort of way, and oh yeah, she loves to fuck! This busty pornstar can take it with the best of them, and she looks hot as hell in this scene as a red light district hooker:
Cassandra Calogera is showing her goodies in a red light neighborhood where the girls entice men through the large windows of their brothel. A trick daddy searching for ass sees the sexy, big-boobed brunette though the glass. He wants her bad and he wants her fast. He could hit the bars for loose women but that's no guarantee and he wants a pretty professional who knows how to give satisfaction. Cassandra directs him to enter the bordello and come to her little room so they can get down and dirty. He has chosen well. She'll suck and fuck the cum out of his nuts like no woman has in his life. This is the house of the rising cock.
My cock is rising watching this busty babe getting boned, you can tell she loves the cock deep inside, and cums repeatedly and naturally through the scene. She's totally into it!