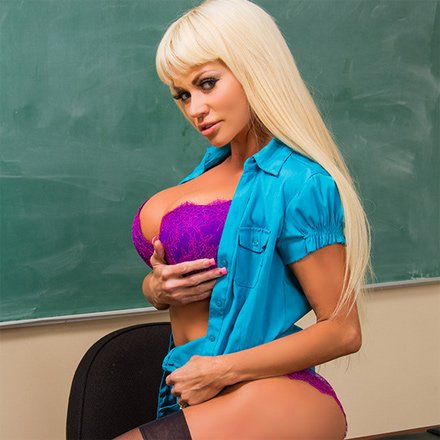 Nikita Von James is like this poster girl for this blog, she's the perfect busty pornstar and I have featured her here repeatedly. She's a near perfect combination of pornstar tits and hot fuckability! Check out this new scene from My First Sex Teacher:
Bill just can't seem to past Ms. Von James' class. He's taken the class three times and still gets every question wrong on the final. He reveals to her that if he actually does pass her class he won't be able to see her anymore. She lets him know that she is a married woman and could get in trouble for banging a student but, Bill knows that her 90 year old looking husband isn't fucking her right. Bill takes control of the situation and gives his professor what she's been longing for. Looks like at home tutoring sessions may not pay off for Bill.
Intense fuck action here for sure, her big tits are out for us to enjoy and some of the best action is this stand up doggy style fucking over the desk, with her big tits pressed into the desk top and his cock buried to the hilt in her wet cunt. A fucking awesome scene from this busty pornstar!